Invisalign® in Rapid City
---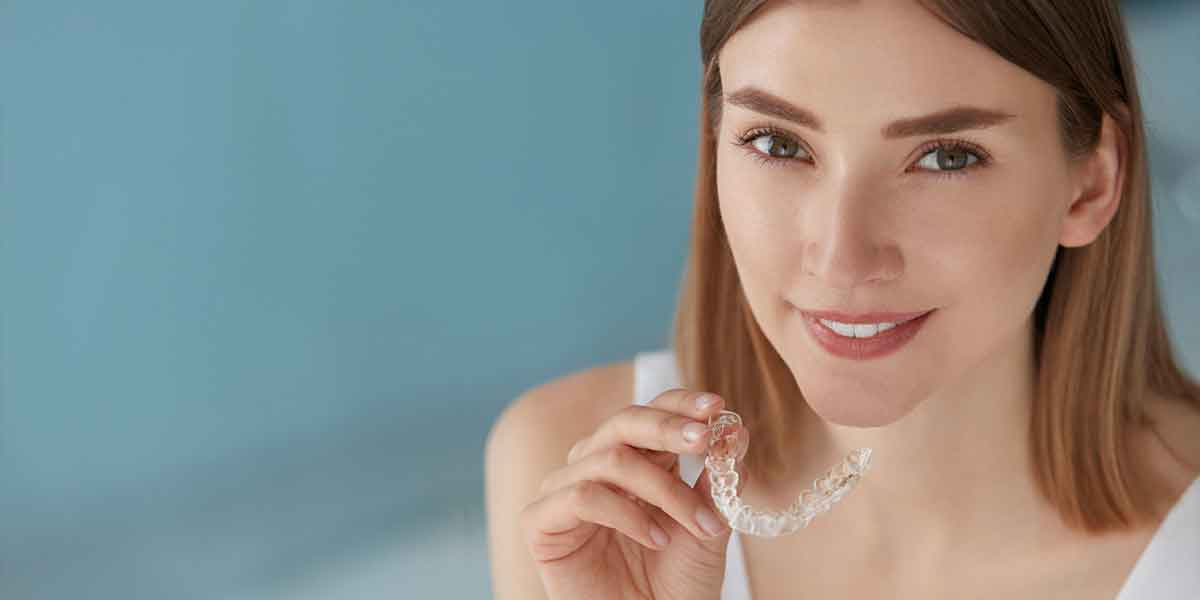 ---
Call Wilson Park Dental in Rapid City, SD at 605-343-9352 to learn more about Invisalign® to and schedule an appointment.
What Is Invisalign®?
---
Invisalign® is a great way to straighten their teeth without the look of traditional braces. The system creates a series of clear plastic aligners gently guiding your teeth into the correct positions. The series of aligners ends when your teeth have reached their optimal placements. Changing aligners every week or two allows you to shift your teeth into a perfect smile every week or two.
---
Benefits of Invisalign®
---
Invisalign® has many perks setting it apart from traditional braces. Here are the primary benefits of this system:
Gentle
With no wires or brackets, this system is gentler than traditional braces. It requires minimal orthodontic adjustments and feels smooth to the lips and cheeks.
Discreet
No one will realize that you have Invisalign® unless you tell them about it. You won't receive the unwanted attention you may get with traditional braces. Braces may also interfere with your professional image, primarily if you work in a public-facing profession. Teens may also want to avoid wearing traditional braces for aesthetic reasons.
Eat What You Want
With Invisalign®, you take the aligners out whenever you eat or drink. This feature means you can continue enjoying chewy, crunchy, and sticky foods as long as you brush well after eating and replacing your aligners.
Easy to Practice Oral Hygiene
Some patients with traditional braces end up with staining and tooth decay because they have trouble cleaning around their appliances. Since Invisalign® trays come out for cleaning, you can ensure that your teeth experience fewer long-term consequences.
---
Are You a Good Candidate for Invisalign®?
---
If you have always wanted to have straighter teeth but don't want others to be distracted by your braces, Invisalign® is an excellent option. It is a great option for patients who want to keep their treatment private and show off their smile to the world.
Most patients who want to straighten their teeth are good candidates for the system. People with severe alignment issues or complicated dental bites may need traditional braces instead of Invisalign®. People with periodontal disease should ask their dentist about treatment before receiving aligners.
Why Choose Wilson Park Dental?
---
Our friendly office brings you excellent dental care close to home. Our dentists use up-to-date tools and materials to bring out the best in your smile. Our office staff is pleasant and knowledgeable. We work together to make our patients comfortable and ensure they have all the information they need.
Frequently Asked Questions about Invisalign®
---
Invisalign® systems have helped thousands of people straighten their teeth. Here are our patients' questions about the system:
How are the aligners made?
---
First, the dentist or orthodontist takes an impression of the teeth. Today, most offices use digital intraoral scanners, allowing them to take highly accurate images without the use of a gooey impression medium.
The orthodontist uploads the data to the makers of Invisalign®, who create the aligners in the lab on a 3-D printer. The orthodontist then gives the aligners to the patient at each appointment. Gradual changes to the aligners allow the teeth to shift slowly.
For how long each day do I need to wear my aligners?
---
With Invisalign®, you must wear your aligners for 20 to 22 hours daily. Wear them all night. Take them out to eat, drink, and keep the aligners clean.
How do I keep my aligners clean?
---
You have a few choices for cleaning methods. First, the company sells a convenient branded solution. They also recommend cleaning the aligners with clear, undyed liquid soap and water. Clean the aligners every time you eat or drink, as well as when you get up and when you go to sleep at night.
How often do the aligners change?
---
Typically, the orthodontist will recommend changing the aligners every one to two weeks. Incremental change in your smile makes treatment comfortable.
Is there anything I should avoid with Invisalign®?
---
Many orthodontists recommend avoiding foods and beverages that stain. These include curry, red wine, coffee, and tea. Any trace of a stain on your aligners will show, so it may be best to avoid these foods during your treatment.
---

---

---
Call Wilson Park Dental
---
Invisalign® is a discreet way to improve your smile. If you are interested in Invisalign®, let your dentist know. We will refer you to a partner orthodontist for a consultation. Call us at 605-343-9352 for more information.
---