Teeth Whitening in Rapid City
---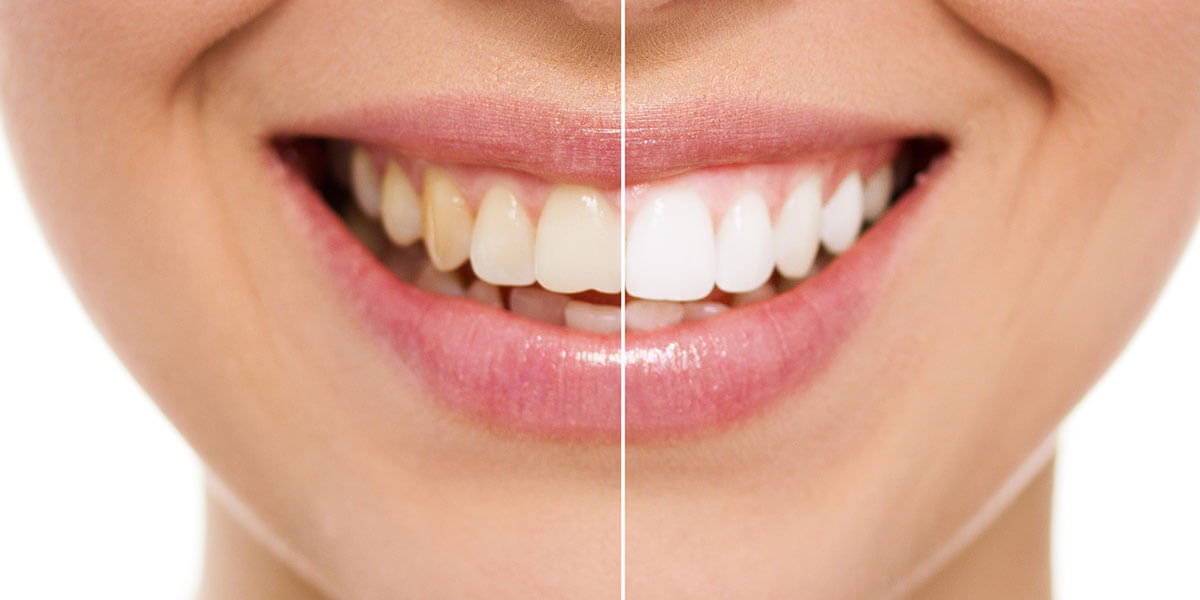 ---
Wilson Park Dental provides teeth whitening in Rapid City, SD. Call 605-343-9352 or contact us to learn more and schedule an appointment.
What is Teeth Whitening?
---
Teeth whitening is the process of removing stains and discoloration from the teeth to make them look whiter. Professional teeth whitening treatments contain a bleaching agent called carbamide peroxide that removes stains and brightens the teeth.
Benefits of Teeth Whitening
---
Professional teeth whitening treatment offers many benefits: 
Results are dramatic.

Professional teeth whitening provides dramatic results that are noticeable right away. It is significantly more effective than over the counter whitening products.
Treatment time is short.

You'll see results in just one treatment or within a few weeks depending on the type of treatment you choose. 
You can smile with confidence.

You may feel more confident and want to smile more often after whitening your teeth. 
It is gentle on your teeth.

Professional teeth whitening contains bleaching agents that are effective but gentle on your teeth. They won't break down tooth enamel or cause sensitivity like over the counter whitening products can.
Treatments We Offer
---
We offer two types of teeth whitening treatments: 
In-office whitening.

In-Office Bleaching usually requires only one office visit. A protective gel or a rubber shield is placed over the gums to protect the soft tissue. A bleaching agent containing carbamide peroxide is applied to the teeth, and a specialized light is then used to enhance the action of the whitening agent. This is the fastest way to achieve results.
Take home whitening.

At-Home bleaching requires an impression of the teeth to be taken to make a customized mouth guard to hold the whitening gel, containing carbide peroxide, against the teeth. Once the mouth guard is made, it is worn for a period of time, as instructed by our office. The amount of time may vary from a couple hours a day, to all night, for up to four weeks or longer.
Are You a Good Candidate for Teeth Whitening?
---
If you feel your teeth are looking dull, yellow, or discolored, you may be a good candidate for professional teeth whitening treatment. Most surface stains can be removed with whitening treatment, with the exception of severe stains or tetracycline discoloration. If teeth whitening doesn't achieve the desired results, there are other options such as cosmetic bonding or veneers that may be more effective and concealing severe stains.
Why Choose Wilson Park Dental?
---
At Wilson Park Dental we want to help you achieve a smile that is as healthy as it looks, which is why we provide comprehensive dental services that include preventive, restorative, and cosmetic procedures. We want to restore the health of your teeth when necessary, improve the appearance of your teeth when appropriate, and maintain the health of your teeth for your lifetime. As a family dental practice we provide dental care for patients of all ages, extending the convenience of taking the whole family to one dental practice.
---
Frequently Asked Questions About Teeth Whitening
---
Does teeth whitening provide even coloring?
---
One advantage of professional teeth whitening is that it can be applied evenly for a uniform color across all of your teeth. In-office whitening is applied by your dentist under careful monitoring to achieve the desired color. Take-home whitening includes custom made trays that fit your teeth for even distribution of the bleaching agent.
Is teeth whitening effective on dental work?
---
Unfortunately teeth whitening cannot change the color of composite fillings, crowns, dental implants, bridges, or any other type of prosthetic. Your dentist can apply whitening carefully to help your natural teeth match your prosthetic.
Is carbamide peroxide safe?
---
Carbamide peroxide, the bleaching agent used in professional teeth whitening, can cause mild irritation. During in-office whitening a gel or rubber shield is applied to the gums to prevent irritation. Take home whitening has a lower concentration of the bleaching agent, so it is less likely to be a problem. It is best to avoid swallowing it in significant amounts.
Does dental insurance cover whitening?
---
Teeth whitening is considered to be a cosmetic treatment, which means it is not covered by insurance. Professional teeth whitening does cost more than most over the counter whitening products, but it is more effective. The results will also last significantly longer, which can save you money by reducing the overall amount of whitening products you'll purchase.
---